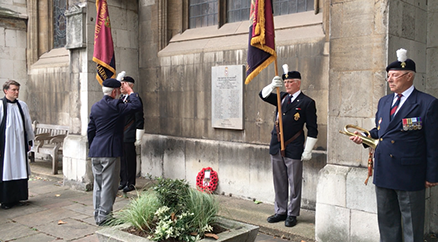 A ceremony was held in Holborn on the July anniversary of the ending of the Korean War, 64 years ago.
Mike Mogridge's daughter kindly supplied the photos.
The service was conducted by David Ingall, Priest-in-Charge. Joe Hill salutes after laying a wreath, with Peter Galloway and Richard Stew as Standard bearers while Mike Mogridge took charge of the bugle.
John Ringwood met fellow East End boy Ray Winstone at a recent garden party held at Buckingham Palace.
They quickly found that they had other things in common. John said " We had a chat for a while and we found out that we both had something in common, Ray said his dad had a stall in Rathbone Market, which is Canning Town, and my dad had a jellied eel stall outside the Raglan pub which was in Plaistow. Ray's a lovely fella".
John was recently in an article for his local newspaper the Romford Recorder.
The piece was about how important it is to stay fit, whatever your age.
GOLD AGE
John, who turned 80 this year, is a regular at Central Park Leisure Centre in Harold Hill, pushing himself to the limit three times a week. John says " I tell people, when they reach a certain age, it's gold age, not old age!".
His trainer said "John is in incredible shape, and looks unreal for his age. Staying fit is vital for your health – life is too short to just sit back. It's never too late to start."
The Royal Fusiliers are still alive and well in North Vancouver BC Canada. This was taken at the 2016 Remembrance Day parade.
I was privileged to be the Veteran of honor. I have to confess my headdress was of the 'old' school 'white hackle' but I like it. I was escorted by a lady RCMP officer and a Sgt member of the Canadian forces. This is a ceremony I have participated in for 20 years rain or shine.
I always feel proud to wear 'the white hackle' it always raises question from the public gathering, which by the way increases every year.
Regards to all, Len.